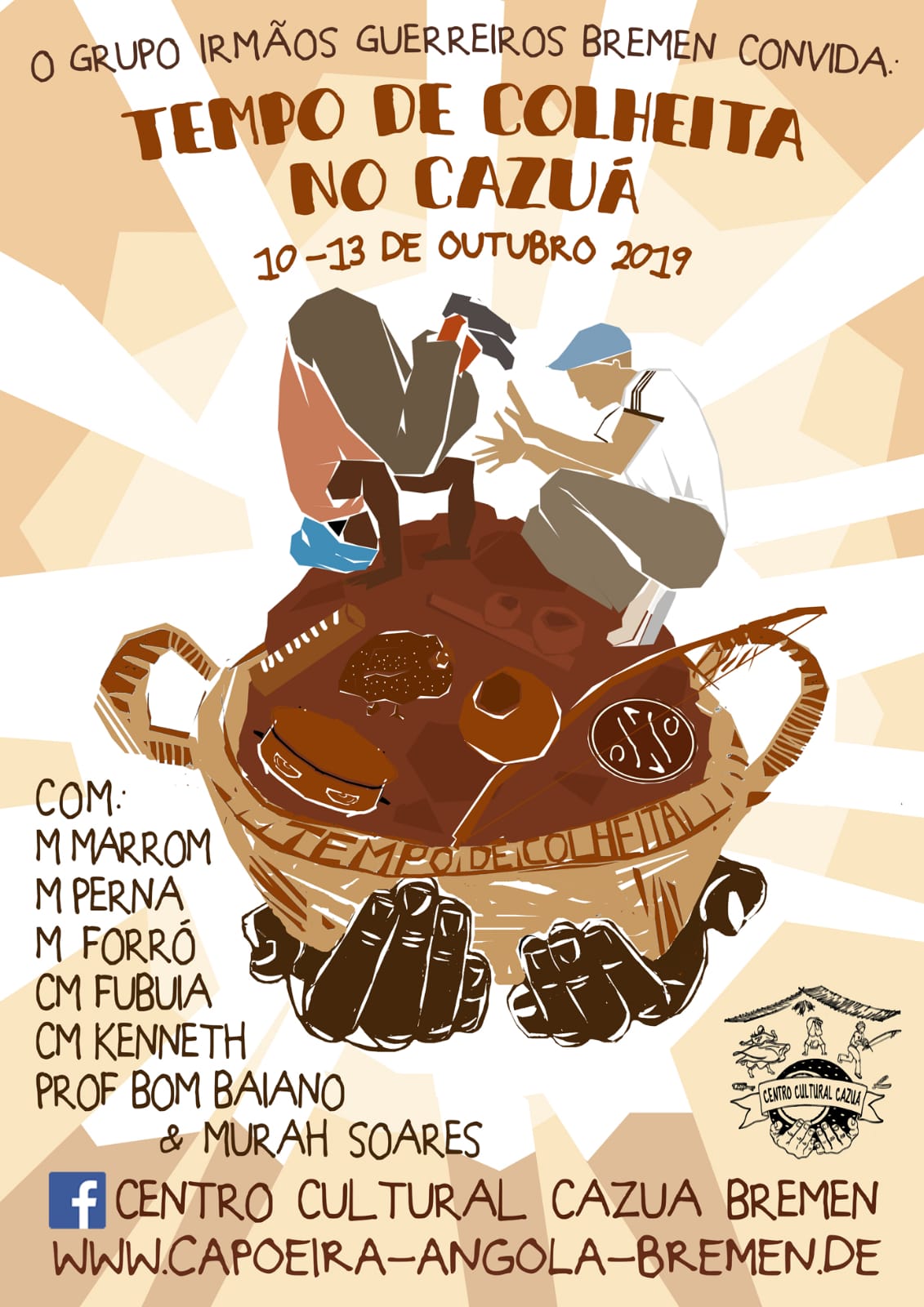 Tempo de Colheita – Information
TEMPO DE COLHEITA
Capoeira Angola Event at Centro Cultural Cazuá (Bremen, Germany)
MESTRE PERNA
Grupo de Capoeira Angola Irmãos Guerreiros
10th – 13th of October 2019
Special guest: Mestre Marrom from Grupo de Capoeira Angola Irmãos Guerreiros São Paulo
With:
Mestre Forró (Marrom e Alunos – Hannover/Hildesheim)
Mestre Perna (GCAIG Bremen)
Contra-Mestre Fubuia (Angoleiros do Mar Paris)
Contra-Mestre Kenneth (GCAIG Wien)
Prof. Bom Baiano (GCAIG Leipzig)
Murah Soares (afro-brasilian dance – Forum-Brasil Berlin)
As a further special occasion of this event there will be the graduation of Professor Russo
(GCAIG Bremen), student of Mestre Perna since the early start of his work in Germany in
2002. Prof. Russo has ever since been dedicated to the preservation and continuation of
the Capoeira Angola and the work of Mestre Perna and the Grupo Capoeira Angola Irmãos
Guerreiros by initiating Capoeira trainings in various locations.
Information
Date: 10th – 13th of October 2019
Where: Centro Cultural Cazuá | Ladestraße 1 | 28197 Bremen | Germany
Accommodation: Jugend- & Freizeitheim Walle | Waller Heerstraße 229 | 28219 Bremen
You need to bring your own sleeping bag and a mattress. There are several rooms to stay in,
separated bathrooms and showers.
Food
We offer breakfast (included), and we also prepare a fresh and delicious
dinner for a reasonable price.
Organisation
There will be a timetable in advance for all trainings. Every day starts with a class of Afro-
Brazilian dance at Cazuá. The remaining classes will be given simultaneously at Cazuá and
in Walle, the RODA will always take place at Cazuá. The party on Saturday evening will be in
Walle youth center in an extra party place.
Arrivals
On Thursday training takes place exclusively at Cazuá. If you arrive aft er 9pm please go
straight to Walle. If you arrive later than 11pm please let us know in advance. For your
arrivals on Friday, Saturday or Sunday please refer to the ti metable.
Reminder:
From Friday to Sunday trainings take place at Cazuá and Walle Youth Center simultaneously.
Prices
Early registration (until October 4th)                              Regular
---
4 days *                                     90 €                                                                           95 €
3 days *                                     85 €                                                                           90 €
2 days *                                     80 €                                                                           85 €
1 day: Friday or Sunday *       40 €                                                                           40 €
1 day: Saturday *                    45 €                                                                           45 €
Afro-brasilian dance                                    1 x 15 € / 2 x 25 €
---
* Including the trainings, allocation, breakfast and T-Shirt.
Registration
The early birds get rewarded with a special discount, valid until October 4th.
To do this, please send an email indicating your complete name and the number of days you
would like to participate. Then please transfer the respective amount to our bank account
until October 4th 2019.
Recipient: Centro Cultural Cazuá e.V.
Bank : GLS Gemeinschaftsbank eG
IBAN: DE77 4306 0967 2047 2275 00
BIC: GENODEM1GLS
Subject: Workshop October + n° days
FAQ
– Is there a possibility to stay in Bremen before and/or aft er the event?
– I have questions regarding my arrival in Bremen.
For these and other questions please don't hesitate to contact us as soon as possible, so we
can help fi nding soluti ons.
How to get there
The train stati on "Bahnhof Bremen Neustadt" and the bus station (bus n° 24) "Bahnhof
Neustadt" is a 2 minutes' walk away by foot from the Cazuá.
Check the site https://www.bsag.de/de/auskunft.html and have a look at the timetable and
how to get to that station from your point of departure within Bremen.
How to contact
Please send a message to inf[at]capoeira-angola-bremen[dot]de or via our Facebook site
"Centro Cultural Cazuá Bremen". We will do our best to respond as soon as possible.
Welcome at Cazuá!
Mestre PERNA & students